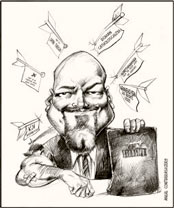 Starting Tuesday, April 26th our men's group will commence a new series of discussions based upon James White's book entitled
The Roman Catholic Controversy: Catholics and Protestants—Do the Differences Still Matter?
Plan to discuss the first two chapters on the 26th. To learn more about James White, check out
his site
or the interview I did with him entitled
Leading Questions
. James is a blessing to the Body of Christ for his fidelity to the gospel and willingness to address the issues. *The books are being ordered so contact me if you need the a preview copy for chapters 1-2.