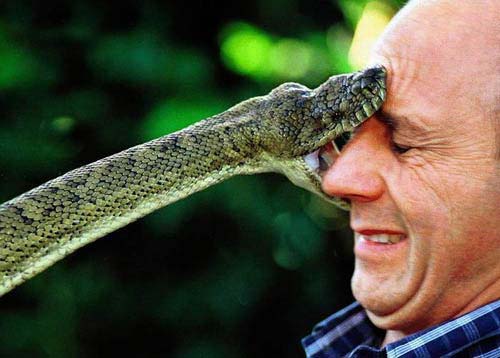 Slippery snakes (Calvin's description of false teachers) are cunning enough to use as many biblical words as possible while in actuality opposing the truth. Therefore the church has at times found it helpful to use non-biblical words to describe biblical truth. As a follow up to last Tuesday's discussion, I have included some commentary from John Calvin on this matter as it relates to the biblical doctrine of the trinity. For 10.11.11, read chapter 8 of Berkhof's A Summary of Christian Doctrine on the Decrees and be ready to discuss related questions. Thanks Mike Holloway for the reference to Calvin's comments.
"Now, then, though heretics may snarl and the excessively fastidious carp at the word Person as inadmissible, in consequence of its human origin, since they cannot displace us from our position that three are named, each of whom is perfect God, and yet that there is no plurality of gods, it is most uncandid to attack the terms which do nothing more than explain what the Scriptures declare and sanction. "It were better," they say, "to confine not only our meanings but our words within the bounds of Scripture, and not scatter about foreign terms to become the future seed-beds of brawls and dissensions. In this way, men grow tired of quarrels about words; the truth is lost in altercation, and charity melts away amid hateful strife." If they call it a foreign term, because it cannot be pointed out in Scripture in so many syllables, they certainly impose an unjust law—a law which would condemn every interpretation of Scripture that is not composed of other words of Scripture. But if by foreign they mean that which, after being idly devised, is superstitiously defended,—which tends more to strife than edification,—which is used either out of place, or with no benefit which offends pious ears by its harshness, and leads them away from the simplicity of God's Word, I embrace their soberness with all my heart. For I think we are bound to speak of God as reverently as we are bound to think of him. As our own thoughts respecting him are foolish, so our own language respecting him is absurd. Still, however, some medium must be observed. The unerring standard both of thinking and speaking must be derived from the Scriptures: by it all the thoughts of ours minds, and the words of our mouths, should he tested. But in regard to those parts of Scripture which, to our capacities, are dark and intricate, what forbids us to explain them in clearer terms—terms, however, kept in reverent and faithful subordination to Scripture truth, used sparingly and modestly, and not without occasion? Of this we are not without many examples. When it has been proved that the Church was impelled, by the strongest necessity, to use the words Trinity and Person, will not he who still inveighs against novelty of terms be deservedly suspected of taking offence at the light of truth, and of having no other ground for his invective, than that the truth is made plain and transparent?
Such novelty (if novelty it should be called) becomes most requisite, when the truth is to be maintained against calumniators who evade it by quibbling. Of this, we of the present day have too much experience in being constantly called upon to attack the enemies of pure and sound doctrine. These slippery snakes escape by their swift and tortuous windings, if not strenuously pursued, and when caught, firmly held. Thus the early Christians, when harassed with the disputes which heresies produced, were forced to declare their sentiments in terms most scrupulously exact in order that no indirect subterfuges might remain to ungodly men, to whom ambiguity of expression was a kind of hiding-place. Arius confessed that Christ was God, and the Son of God; because the passages of Scripture to this effect were too clear to be resisted, and then, as if he had done well, pretended to concur with others. But, meanwhile, he ceased not to give out that Christ was created, and had a beginning like other creatures. To drag this man of wiles out of his lurking-places, the ancient Church took a further step, and declared that Christ is the eternal Son of the Father, and consubstantial with the Father. The impiety was fully disclosed when the Arians began to declare their hatred and utter detestation of the term ὁμοουσίος. Had their first confession—viz. that Christ was God, been sincere and from the heart, they would not have denied that he was consubstantial with the Father. Who dare charge those ancient writers as men of strife and contention, for having debated so warmly, and disturbed the quiet of the Church for a single word? That little word distinguished between Christians of pure faith and the blasphemous Arians" (The Institutes of the Christian Religion).